ARCLABS WELDING SCHOOL STUDENT BEATS THE ODDS AND OVERCOMES BARRIERS
Hanahan, SC (February, 2020) – Arclabs Welding School Student, Larry Phillips proves that you can follow your dreams despite any physical barriers that you may have.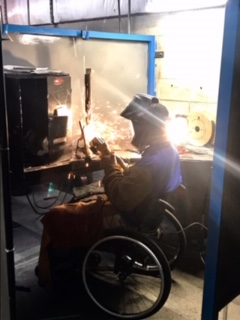 Larry Phillips is not your typical welder, he is paraplegic, but he will not let this stop him.  Through the help of the Workforce Innovation and Opportunity Act (WIOA) and South Carolina Vocational Rehabilitation, Larry enrolled in Arclabs Welding School's 900 Hour Advanced Welding program in September of 2019 and will be graduating later this month.
These state agencies, along with their rehab engineers and career coaches, worked together and with Arclabs to provide guidance and accommodations to ensure that Mr. Phillips would be able to achieve success.
Mr. Phillips knew that success could come to him in this skilled trade. "I come from a family of welders you could say. My brother and cousin introduced me to the idea of becoming a welder.  They recommended I learn the GTAW process for a good chance at a long-term career," said Phillips.
Chuck Meek, lead instructor at Arclabs Welding School saw the drive and the need to succeed in Larry. "You can hold him down, but you can't stop him," said Meek. "Once he figured out he could do this and overcame the fear of the tools and atmosphere, he did awesome.  He excelled in GTAW, found his passion and went for it."
"I want to prove that just because you are in a wheelchair your life is not over." said Phillips. "My long-term goal is to get into a production or fabrication position. I want to be successful and I want to be the best paraplegic welder there ever was."
For more information regarding Arclabs Welding School, please contact Arclabs Hanahan at (843)261-0044.
About Arclabs Welding School
Arclabs Welding School is a welding trade school that provides hands-on training, and features comprehensive welding programs that focus on training, qualification and placement. Arclabs serves its students across the state of South Carolina and Texas, with locations in Columbia, Hanahan, Piedmont and Houston. Visit Arclabs Welding School at www.arclabs.edu or call (843)261-0044.
More on welding students
[wpu_silo links='35']